Case studies are effective tools for converting leads into customers.
They help establish your brand as a topical authority, demonstrate how your product solved a real problem for a customer, and help leads see how they could experience similar success with your services.
What makes this such an effective content format? Consider the following points:
They directly position your product as the best solution. There's a lot of debate around whether or not content should directly sell products. In this case, the answer is "yes".
Your claims are backed up by real results. Who can argue with data from a real-life scenario?
Not everyone is creating them. While blog posts are a dime a dozen, an effective customer story is much harder to duplicate.
However, case studies take time and effort to put together. The good news: you can streamline the entire process with this guide.
You'll learn:
Everything you need to know about doing effective research.
A simple, 7-step process for creating case studies from start to finish.
Tons of examples for inspiration and templates to save you time.
Plus, like every type of content or marketing project out there, you can manage the entire workflow on one platform, with CoSchedule.
Create Great Marketing Case Studies With Four Templates
This can be a time-consuming process. Grab this template bundle to streamline your workflow.
Three Case Study Templates (Word

): Use this Word template to create a case study you'll either print or make available via PDF. We've included three copies in green, red, and blue header colors.

Three PowerPoint Templates

: If you would prefer to create a slide deck or presentation, use this PowerPoint template. It's also available in three different color schemes.

Case Study Template (Web)

: Use this template to write your case study content as a web page.
Get Your Case Study Templates
Plus, join our email list to stay up to date.
Success! Your download should start shortly. Or you can download it manually here.
What is a Case Study?
A case study is a piece of content published by a business that outlines their success in resolving a client's (or customer's) problem.
Case studies are as part of a marketing strategy to promote a business's services to potential clients. They go beyond testimonials and instead provide real-world examples of how your service or product works.
Sales teams can also use them to convince leads to trust them. Why? Because they're useful for helping potential customers understand how you've achieved results in the past. Would-be customers can read stories of people just like them, and imagine themselves experiencing the same success.
The bottom line: Case studies ultimately help you prove that your business's services or products work—and that readers should try it out.
(It's why they're rated as the most effective way to convert and accelerate leads lingering in the middle and bottom of the sales funnel.)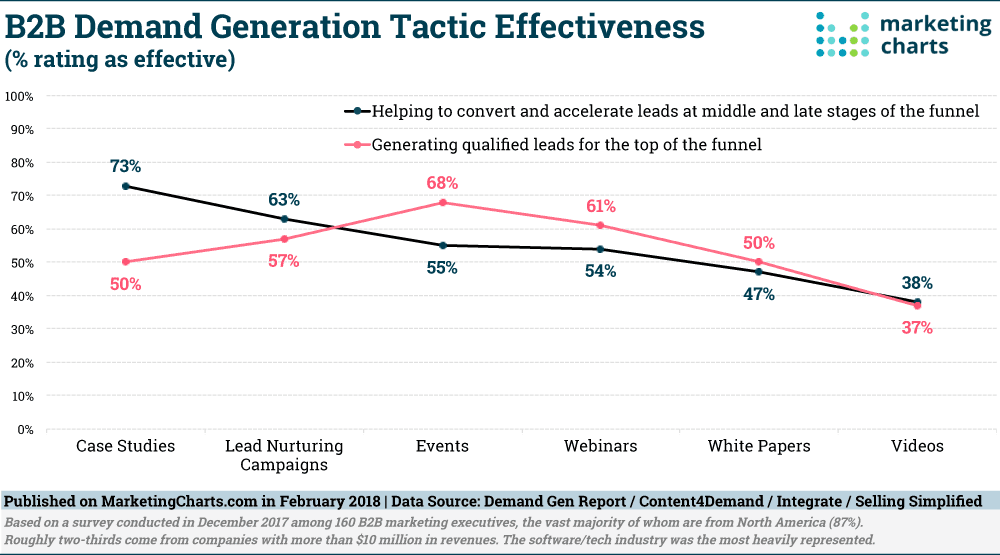 30 Marketing Case Study Examples to Inspire Your Own
If you're looking for an example or two, check out this list of different marketing case studies.
Visual Case Study Examples
Now we know what a case study is, let's take a look at some real-life visual examples to inspire your own.
CoSchedule Case Study Sample
Here's an example of a case study CoSchedule created for Laerdal, a customer whose industry focuses on the creation of medical equipment and helping save lives. It provides clear information about the challenge, solution, and outcome that was supported by CoSchedule.
The Laerdal marketing team found everything they needed, in one place, AND tied their work into the company's goals.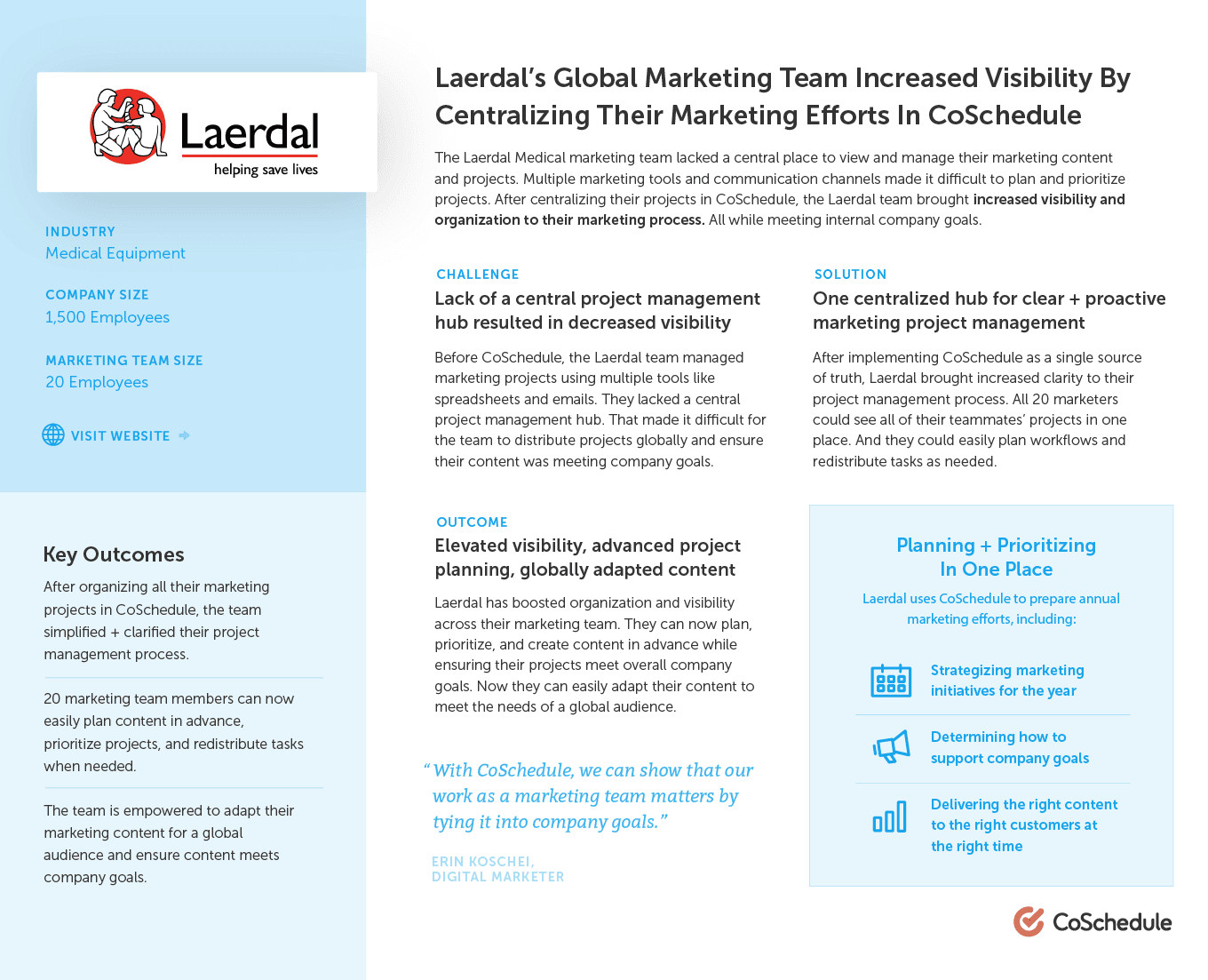 Moz Case Study
This is an example of a business case study Moz created for TopSpot, an independent search marketing agency in Houston, Texas.
The story details the challenge TopSpot faced: switching domains without losing search traction. It also includes the Head of SEO's initial traffic loss predictions.
On the contrary, TopSpot was able to increase their traffic within 90 days of switching domains using Moz's help. They also identified a simple way of determining the strength and value of their links—something Moz's target audience want to do, too.
AdRoll Case Study
This case study shows how Adroll was able to help You Need a Budget free-up time to concentrate on their higher-level strategy (as opposed to spending valuable time and resources trying to manage multiple ads.)
YNAB faced the initial challenge of having to manage several different platforms and getting marketing insights quickly. The case study explains how AdRoll was able to help YNAB increase their ROI and exceed their marketing goals during both peak and non-peak seasons.
It's an inspiring read for their potential customers—one that likely convinces them to give AdRoll a shot. They want to see the same results.
Apple Case Study
Apple displays multiple case studies on their website, using impressive stats and standout results to show potential B2B clients how they can improve their workplace systems.
However, instead of outlining the client's initial problems, Apple instead focuses on how they were able to improve workplace efficiency, save time, and boost productivity.
Take Vestas, a leading sustainable energy provider that uses Apple products to help them manufacture, install, and service wind turbines. By using Apple iPhones and custom apps, their service technicians are able to save 400,000 hours every year.
Apple supports their success stories with videos telling the story of each client. It helps future prospects envision how the company could solve their own problems.
GitHub Case Study
GitHub, an internet hosting provider for software development, uses this case study to demonstrate how they helped 3M, a manufacturing company that struggled with knowledge silos which made code sharing challenging.
Code was scattered across different repositories, in Bitbucket, and on shared drives. These issues often caused duplication of work, dragging on productivity and efficiency.
GitHub had the challenge of speeding up research and development time while sharing best practices at scale. But since using GitHub to deploy on their multi-cloud ecosystem, 3M has gone from 400 deployments in 60 days to 6,000. All of that success is shared in their visual case study.
Lokalise Case Study
In this visual case study, Lokalise helps Any.do automate and simplify localization processes so they don't stall when they release new versions of their app.
Any.do, a productivity app, is localized into dozens of languages (with more in the pipeline.) Given that the majority of translations on the app are crowdsourced, any user of the app can add translation in their desired language.
But they were struggling with complex localization processes.
In their case study, Lokalise showcases how they were able to create a smooth and efficient translator management process using an API. Future customers can see they know their stuff.
Google Case Study
Google created a case study to explain the challenges Luxe, a building logistics firm, faced when users signed up for and started using their service.
Since users normally sign up for and begin using Luxe's parking service app on the same day, Luxe needs to make sure they have intuitive sign-up flows.
Google demonstrates how using Google sign-in resulted in an increase in registration rate and activation rate. It inspires other companies to use the same process and see similar results for themselves:
How to Create a Great Case Study in 7 Steps
Ready to write your own case study that convinces potential customers to give you a chance?
Follow this step-by-step guide to write powerful case studies.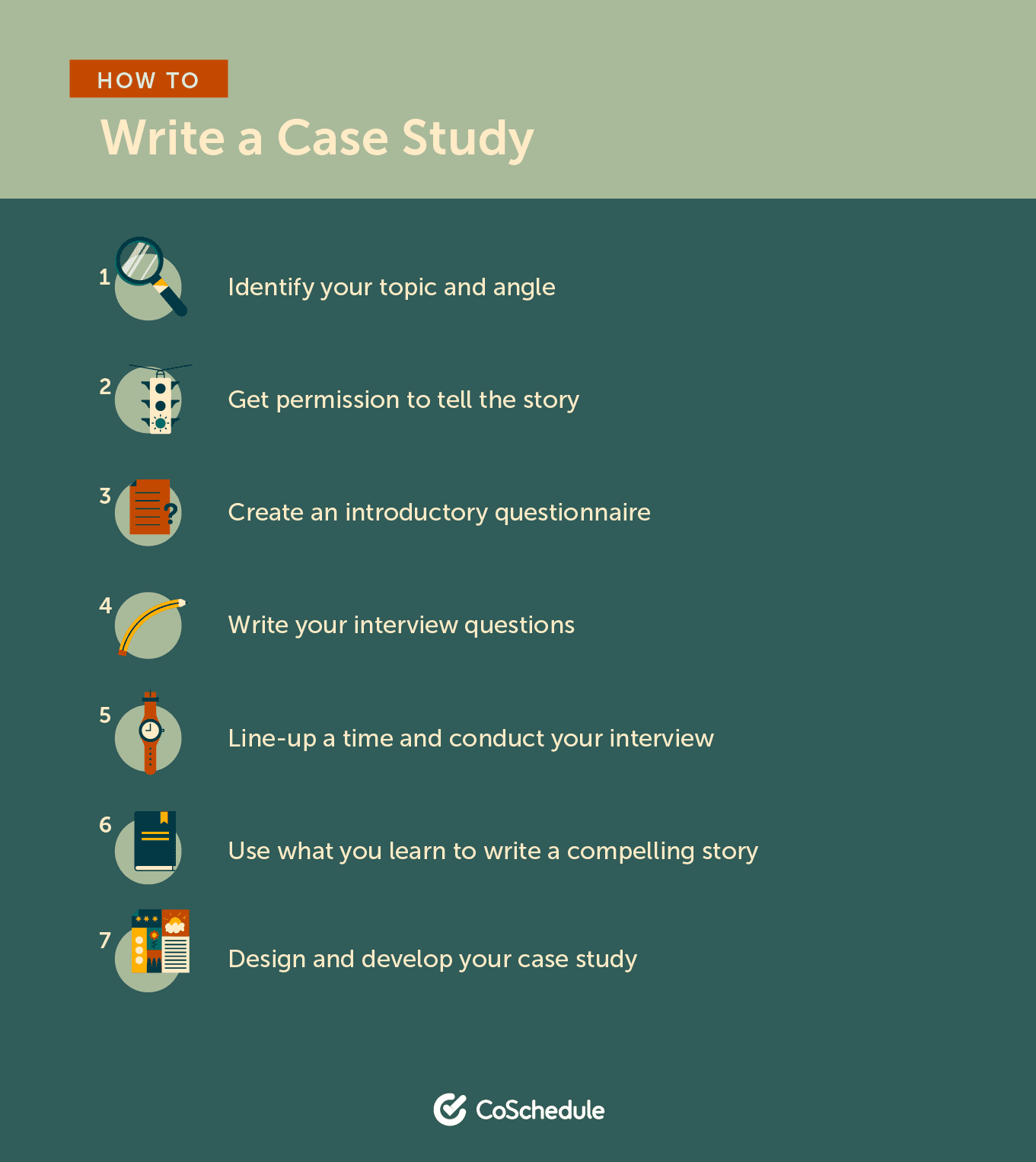 Step One: Identify Your Topic and Angle
The first step in any case study writing process is deciding which solutions, outcomes, or challenges you want to write about.
All case studies should showcase the value of your business and the impact of your work. But remember: the goal of is to stay ultra-focused on one or two specific topics with a clear overall angle.
It's best to stick to building each case study around just one client. That way, you don't risk overloading readers with details.
(Plus, case studies that appeal to one specific buyer persona tend to get the best results. They can picture themselves as being the company you're writing about. They think, "if that company got these results, I can too.")
When choosing which clients to focus your case studies on, think about:
How much the customer uses your product or service.
Whether they experienced dramatic positive results.
If they switched to your product from a competitor.
To find this information, talk to your sales team to see if there are any prospects who may be willing to participate. Or, ask your customer support department if they have any exceptional customers.
These people talk to customers day-in, day-out. They likely have a mental list of those who saw outrageously good results (and would make a good case study.)
Step Two: Get Permission to Tell the Story
It's one thing to write about your own company. It's a whole 'nother ball game if you're writing about past clients.
Don't just pull data and personal information about previous customers and publish it as a case study without asking for permission.
If you take one thing from this guide, let it be this: you need explicit permission from past clients before you start writing a case study about them. Otherwise, you risk ruining that relationship altogether.
If a client doesn't want their name attached to the case study, you can always offer to keep case studies anonymous to protect identities and possibly sensitive data.
Here's how you can make the ask, protect your company, and avoid upsetting any past clients.
Create a Permission Letter
To keep your case study writing process moving swiftly along, you need to predetermine expectations and the timeline from the outset. This will help you create the right setting for clear and open communication between you and the client.
If you're writing multiple case studies, design a pre-written permission letter that you tailor to each participant.
Your letter should include:
Details about which case study format you're using

 (video, web page, etc.)

The exact subject matter of the case study

 (initial challenges, strategies, and data.)

What they could get out of the case study

. Your business may choose to offer an incentive like a discount, backlinks, or brand exposure to encourage people to participate.
Here's a copy-and-paste template you can tailor to your needs:
Hi [CLIENT NAME],

Our team is conducting a case study, and we would love to tell the story of [COMPANY] given the awesome results you've got over the past [FEW WEEKS/MONTHS/YEAR.] Would you be interested in working with us to create a case study around the use of our product?

Here's a description of our process and what we'd need from you.

What we'd like from you:

High-resolution company logo (as big as possible).
High-resolution images of your team, company office, etc — stories with photos of your team will drive more traffic; people like seeing that there are humans behind a story.
Stats: before/after using our [SOFTWARE/PRODUCT/SERVICE.]

What does the process look like?

One [phone/video call/coffee] interview with [person].
Our team will then take your interview, and build a story out of it.

Two to three email conversations may be necessary to gather extra information.

Once the final draft is complete, we'll send it over to your team for review.
We'll then finalize the story, create a landing page, and build a campaign around it.
Once live, we'll share the final story with you.

Average Turnaround Time: one month (this may be a little longer depending on response times and edits.)

What's in it for you?

Perk One
Perk Two
Perk Three

Let me know if you're up for it and we can get something scheduled in.

Best regards,

[YOUR NAME]
Consider Using a Legal Release Form
Another potential step in the process is asking your case study subjects to sign a legal release form. While it might sound like scary legal stuff, it's just a form that allows you to use a client's information.
You don't always have to take this step in your case study creation process. But if you do decide to have your subjects sign a legal release form, consult with a legal specialist first to double-check it's strong enough to protect you should anything go wrong.
Step Three: Create an Introductory Questionnaire
Once your client or customer has agreed to participate in your case study, start to format your introductory questionnaire. This will help you get the information you need to shape the story.
Try using open-ended questions that encourage your clients to use their own words and go into further depth when responding.
Let's face it: yes or no questions won't get the impressive story you want to impress people with.
Use these research questions as a starting point for your case study interview:
What problem did you experience before using our product/service?
Why did you select our product/service instead of a competitor?
How did our product/service solve a problem you were experiencing?
What are your goals as a business or organization?
Are you comfortable sharing data and metrics demonstrating your success?
You can adjust your questions based on how your customer uses your product to get specific answers or quotes that can be highlighted in your study.
Step Four: Write Your Interview Questions
The next step in your case study research is to draft your interview questions.
The questions you ask are critical. It'll make sure you have the information to use when it comes to writing case studies. Getting this stage right will set you up for case study success—and stop the endless rounds of revisions that will undoubtedly frustrate your client!
Remember: your clients or customers are busy. You don't want to have to ask for more details multiple times.
Based on the responses that you received from your initial questionnaire, you can adjust questions to get any additional information you need.
Choose from these 20+ case study questions when conducting your interview.
Getting to Know Your Client or Customer
Your first few questions should be similar to the ones you sent in your questionnaire. These help you gather any additional information you may have missed, and get to know the person you're interviewing.
Potential examples are:
What industry is your company in?
How long have you been using our product or service?
What is your work process like?
How many members are on your team?
What goals do you set for your team?
What Problems Were They Experiencing?
Your business' case study participants were obviously experiencing a problem before they turned to you for a solution. Give the readers of your case study even more context by getting as much information about their problem as possible.
Some questions to include in your interview are:
When did your team first realize there was a problem?
What solutions did you try before you came to us?
Did your problem happen suddenly or did it occur over time?
How did the team come to the decision that outside assistance was required?
What factors led to the problem developing?
What Helped Them Make Their Decision?
Finding out what helped your client decide to work with your company is not only informative for potential new business, but it can help you determine which materials to publish.
Try these questions during your interview:
What materials did you read or watch that influenced your decision?
What criteria did you have when you were looking for a solution?
What competitors did you look at (if any)?
How did you convince your team to make a change?
What sealed the deal for you when you choose to work with our organization?
How Does Your Solution Help?
Talk to your customer and find out how your solution helped them fix the key problems that they were previously experiencing. Chances are, your future customers are dealing with the same thing.
Add these questions to your case study interview list:
What [product/service] helped solve your problem?
What did our product or service replace in your current work process?
What tasks did our [product/service] simplify for you?
How much time do you save?
What tasks did our [product/service] eliminate?
How Did They Implement Your Product?
Another relevant question to ask during your interview process is how your subject implemented your product or service into their existing process.
That's likely a pain point potential customers are trying to overcome themselves—hence why answers to these questions may help eliminate nerves (and ultimately drive more sales from the case study.)
Here are some questions to ask during your interview:
How easily did your team adapt our product into their routine?
How was your onboarding process?
What process did you use to switch over to using our product?
What difficulties did you face in the transition process?
What advice do you have for anyone implementing our product into their work process?
What Results Did They See?
Results speak volumes. Why not let your customer or client data do the talking for you?
Data-backed results are critical for helping new customers see why they should choose your business over a competitor. Results give prospects a tangible idea of what they can achieve with your help.
Try including these questions, always adapting them to fit your business:
How much faster are you at completing [task] now that you use our product?
How did we help you reach your goals?
Did you see any significant jumps in the data that your team collects?
How has your productivity changed since implementing our [product/service]?
What positive results have you seen?
Want to keep these questions somewhere handy for reference? Save this cheat sheet.

Step Five: Line up a Time and Conduct Your Interview
Now you've found your subject, and your interview questions are ready, it's time to set up your interview.
First, you need to set up a time for your interview on a synced calendar. Input your availability into a tool like Calendly or SavvyCal, and send a personalized link to the person you're interviewing. They can pick a time and date that works for them.
Then, decide how you're going to conduct your interview. Here are some options:
Phone interview

. Use a phone call recording app like Rev Call Recorder or Otter.ai. We recommend recording your conversation for accuracy (you can scan back over it later), and peace of mind. Always ask for permission from your interviewee before you start.

Video call

. If you're using a Mac, Quicktime makes it easy to record video calls on your desktop. Windows users can use Skype. Zoom is good across the board.

Face-to-face meeting

. If your client is local, this may be the easiest option. Chatting face-to-face (especially over coffee) is less intimidating for the person you're interviewing.
Step Six: Use What You Learn to Write a Compelling Story
Following the interview, you should have all of your client information stored in one place.
Now comes the fun part; putting it all together into the case study template you downloaded earlier.
Writing an Intriguing Title
The first step in writing a case study is to create a catchy title. Your title should include the name of your client, their logo, and reference something related to their pain point. That's what's going to grab the attention of potential customers experiencing the same thing.
Your subheading should also be short and include information on the product/service they used to solve their problem.
In your case study template, add your title and your subject's logo:

What does a quality title look like? Well, it doesn't have to be complicated. It should:
State who it's about.
Explain what was done.
Communicate a clear result.
Take a look at this example from bit.ly: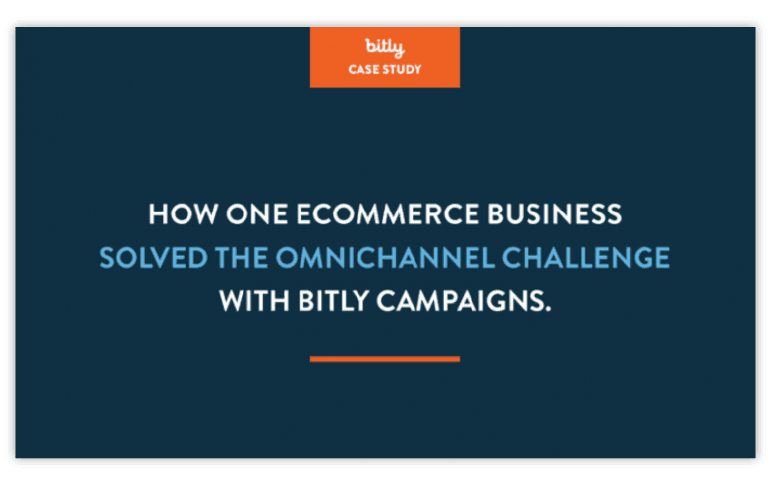 This title works because it clearly explains:
The problem the company faced.
The type of company involved in the case study.
How bit.ly tackled the challenge.
Do This With CoSchedule: Did you know that CoSchedule's Headline Analyzer Studio can help you write better case study headlines?
Executive Summary
Your executive summary is a two to three-sentence paragraph that summarizes the main points of your case study. You can also include a statistic or two to share quick-fire successes for readers who want to scan.
Here's what this section looks like in your template:

Check out this executive summary example about Patagonia:

This works because:
The company's mission is clearly explained.
It highlights the problem the company was experiencing.
In the last sentence, the reader is told how the company solved that problem.
Who is the Case Study About?
The next part of your case study should explain who your case study is about. This is where the information you gathered from your initial questionnaire would go.
Here's what this section looks like in your template:

To see what this section could look like, here is an example from Adobe and LinkedIn: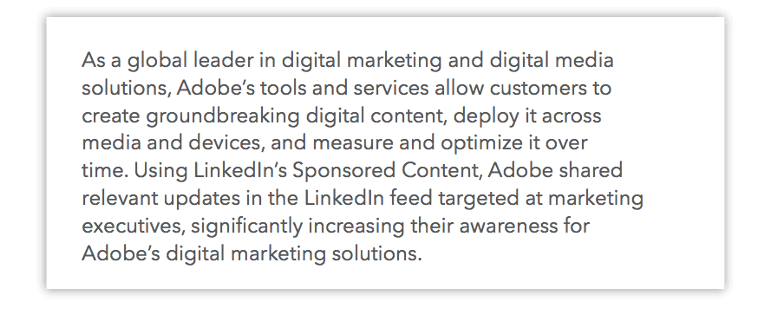 This works because:
Adobe's purpose is clearly established.
The reader is told exactly how Adobe used a LinkedIn service to solve a problem.
It illustrates the clear benefits of using LinkedIn's Sponsored Content.
Problems They've Faced
In this part of the case study, write about the top two to three issues that your case study participant was experiencing. Remember: you want readers to imagine themselves in their shoes, so be as specific as possible.
You should provide some background information on the challenges they faced, as well as their goals: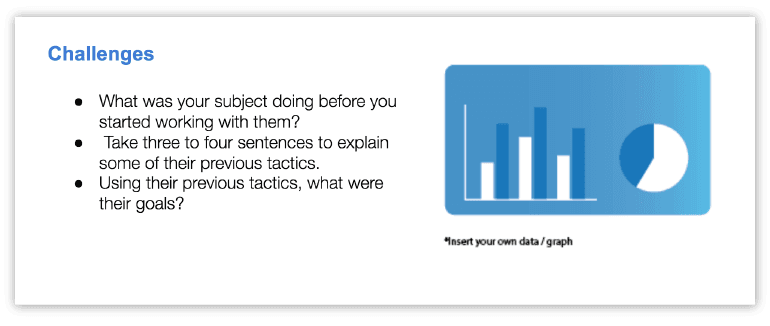 Cirque de Soleil's case study is a great example of addressing problems a company faces in a case study:

This works because:
The case study cuts right to the heart of the problem.
It mentions the specific part of the company that helped Cirque.
There's no fluff. This copy gets to the point.
How Did You Help?
This section should clearly explain how your product or service solved the client's problems.
Detail the exact strategy and lasting changes that your organization brought to them in as much detail as possible: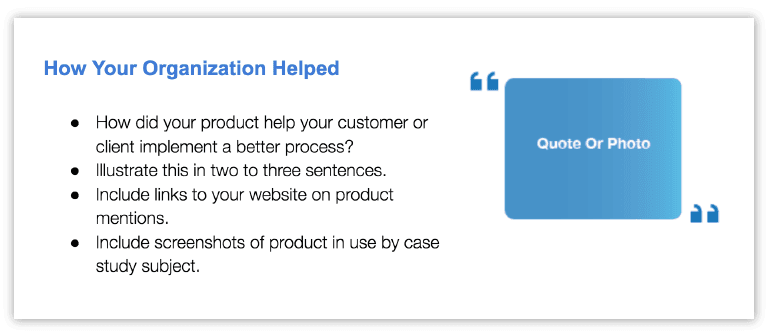 This case study from Callaway Golf explains how its researcher helped solve their problem: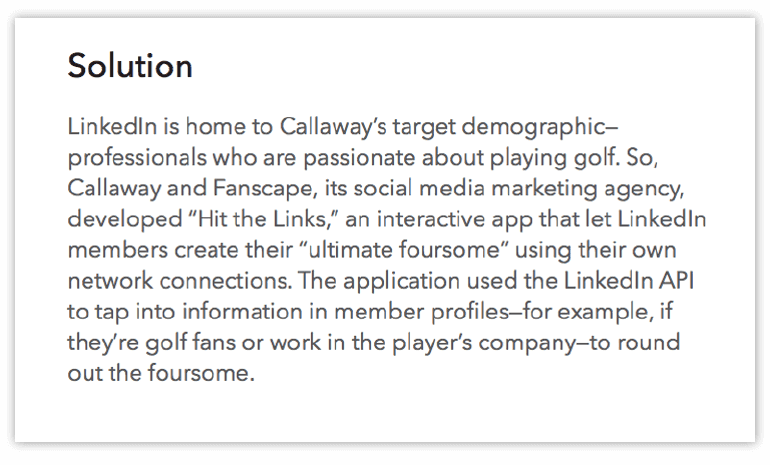 This case study is effective because:
It shows people how LinkedIn has access to Callaway's target demographic.
The case study also explains how they created an app to help solve Callaway's problem.
While data can be challenging to understand, this example clearly explains relevant insights into Callaway's target audience.
Progress and Results
The final section of your case study should share the progress that has been made since the customer began using your product or service. This could be shown through progress towards their goals, changes in metrics they track, and more.
Here's what this section looks like in your template: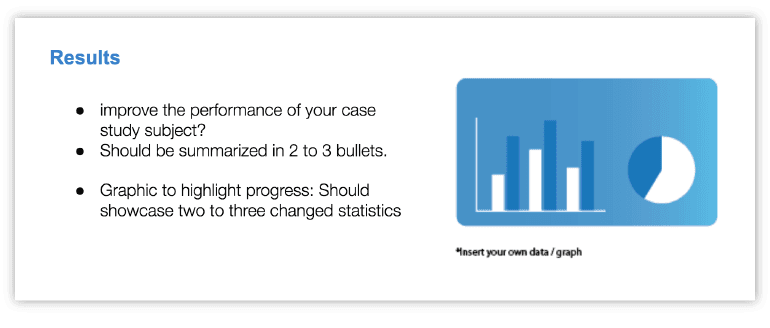 Draw inspiration from Contently's case study on Weebly: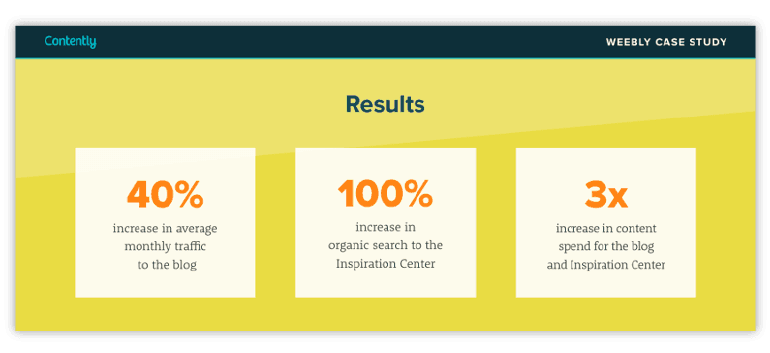 Why is it effective?
The results are one of the most visual aspects of the case study.
The facts and figures are easy to scan.
You can easily tell what type of growth or improvement they experienced.
Using Visuals in Your Case Study
Earlier, we briefly touched on the fact you can make your case study visual.
Visuals can help add the extra oomph you need to make your case study stand out. It also helps time-pressed readers skim the document easily.
Whether that means graphs, logos, or photos, they can make a huge difference.
Here are a few extra resources to help you create customizable visuals for your case study:
Step Seven: Design and Develop Your Case Study
All of the information you've collected from your interviewee may seem overwhelming at first.
But remember: the key to a great case study is to properly format it, making it user-friendly for anyone who looks at it. So, be selective about what you include and don't feel the need to include every single detail you pull from your research.
There's no one design rule when it comes to creating your case study. So long as it's easy to understand and presents all of the key information, you can choose to present your case study in a way that makes sense to your business's target audience.
Depending on your business type, industry, and target audience, you may want to test different case study formats and see which works best.
Generally, you'll likely use one of the following formats.
Downloadable PDF or Whitepaper
In-depth case studies that include large quantities of data, infographics, and quotes may be best suited to a downloadable PDF. That way, potential customers can download your case studies and read through them in their own time.
Not only that, but downloadable case studies can be gated; leads need to enter their email address to gain access. That helps you collect their information for future retargeting.
Website Page
Another option is to format your case study as a public page on your website. While you can't always gather your lead's email addresses, you can share it on social media and optimize the case study for SEO to reach people when they're actively looking for case studies.
Make the page easily scannable by using bold fonts and highlighting data (like percentage increases and other stats.)
You'll also want to highlight the business's goals, challenges, and how your organization created an ultimately successful strategy.
Slidedeck
Slide presentations can offer a more visual and interactive way of displaying your case studies. Formatting your case study to fit multiple slides is one way of making sure they're digestible and don't become overly detailed.
For instance, you could choose to use separate slides to show individual challenges, then a series of slides to show each step of the strategy used to solve it.
To make your presentation more visually engaging, include color-coded graphs and moving transitions to catch peoples' eyes.
Remember to limit the amount of text on each slide so as not to overwhelm your prospects. Only include the most important details to make each slide more impactful.
Videos
Videos can help you tell the story behind each of your case studies. Instead of focusing on percentages, numbers, and other data, videos can engage users with the more human side of each business's challenges, solutions, and results.
(It's likely why 53% of half of B2B tech buyers think video is the most useful type of content.)
Featuring interviewees is a great way of encouraging potential clients to connect with your organization.
Within your video case studies, you might choose to include an interview with the business manager or owner. This person should explain the issues they were facing before finding your solution.
You could then feature a member of your own team who talks through how they found a suitable solution and the final result.
How to Order Your Case Study
Whichever content format you choose for your case studies, they tend to follow the same order.
Here are all the elements you'll find in a typical case study: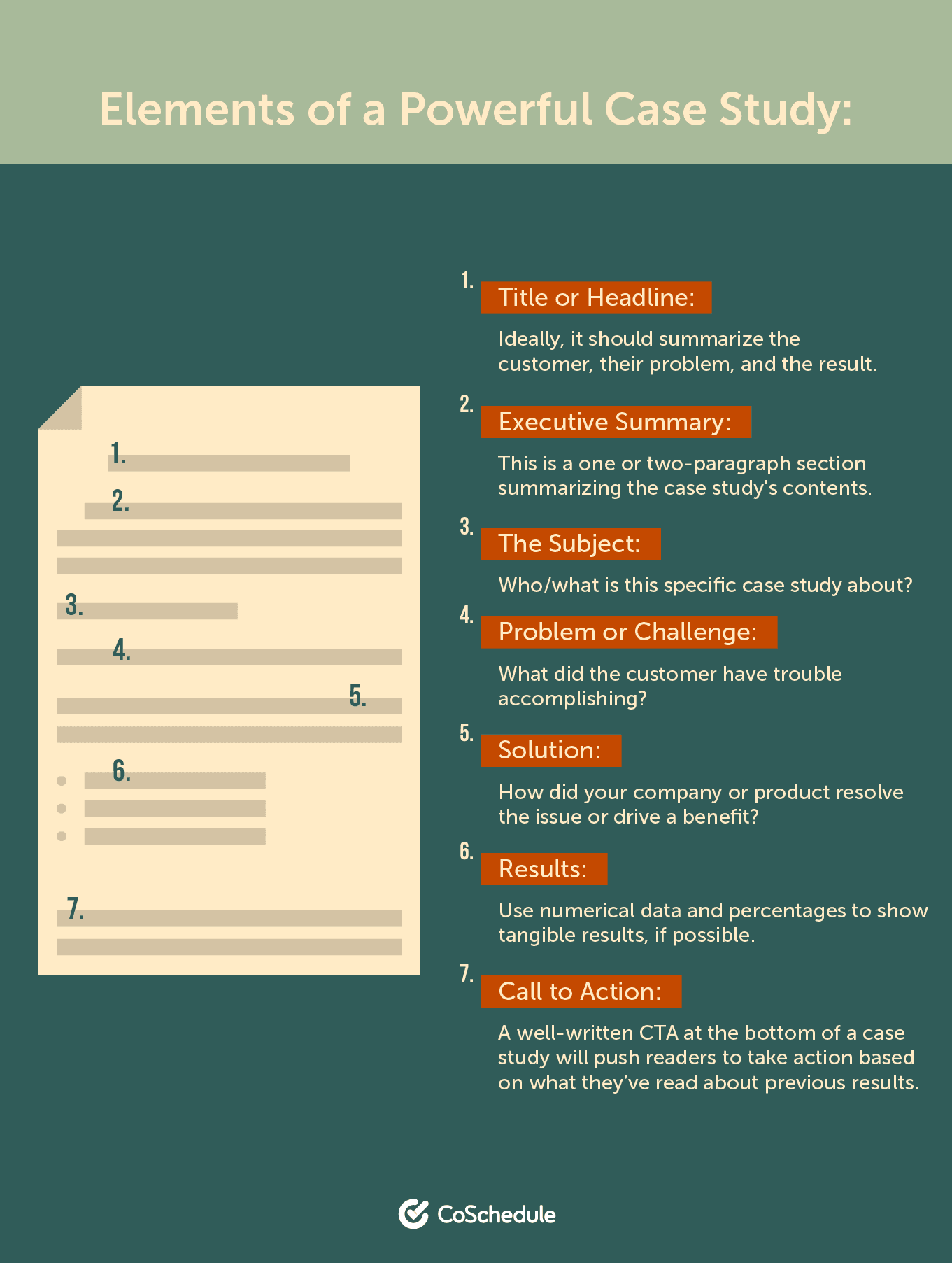 Now Go Write an Awesome Case Study
There's no doubt that well-written case studies are fantastic assets for marketers and sales teams. Not only can you use them to attract leads (and collect their information), but sales team can reference them when trying to build trust with leads.
When writing your own, remember to share clear objectives, tangible results, and use an engaging design. It's the best way to write a compelling case study that potential customers can imagine themselves in.
All that's left to do now is see for yourself!
July 26, 2021