Always dreamed of starting your own business, but no idea where to begin? Without a clear goal in mind, you might not be sure what's best for you or what appeals most. There's a quick solution—all you need is some guidance to help you find the golden opportunity you've been waiting for.

So, what kind of business should you start? We've compiled some of the best small business ideas, real-life success stories, and practical advice to fuel your inspiration.
Easy Business Ideas to Get You Started
Getting your business off the ground all starts with an idea, and it doesn't have to be complicated. In fact, the easiest businesses to start use your own talents. Whether you're a keen knitter or a gardening whiz, there's someone else who isn't—which is where you can turn your knowledge into profit. And when it comes to getting your insider expertise out there, the sky's the limit. 
Don't feel compelled to think too big, either. Some of the most successful entrepreneurs made it to where they are now through offering simple solutions for day-to-day problems. 
These easy startup business ideas, with real-life examples, will be sure to kick-start your creativity. 
1. Start your own free blog
In 2015, Lindsey Bomgren was looking to turn her side venture of teaching fitness classes into something more. Inspired to make resources accessible for all, she started her own fitness website, Nourish Move Love, offering free workouts.
In a world where the best content is often hidden behind a paywall, deciding to offer your talents for free is a huge draw for interested consumers. But how do you make money by creating free content? Here's what you do: Rather than charge customers directly, monetize whatever you produce. 
2. Monetize content
From blog articles to YouTube channels, there's money to be earned in website hits and video views. Google AdSense is a simple tool that, once installed, shows ads to site visitors, allowing you to earn each time they click. To ensure ads don't make your content slower or more difficult to access, ad management partners like Mediavine can help optimize your blog and make it more profitable.
If you find you often recommend or mention products on your page, another simple way to generate revenue is through Amazon Associates. This affiliate marketing program gives you the tools to place relevant Amazon links on your site and generate commission on each sale. 
Through this approach, Lindsey's free blog made six figures from ad revenue alone during the first six months of 2021—and she's now hired her own full-time employees to help with the business. 
3. Share your talents across social media
Social media is a great way to stay in touch with friends and family (and watch funny cat videos). If you own a smartphone, you're probably on social media—which means, as a budding business owner, sharing it with the world is only an account creation away.
Going viral on social media is the dream, and with the right content, you can make it a reality. Take Liz and Dan Marek, who after years running their own successful bakery, realized they'd come to a point where they couldn't scale the business any further. Instead, they looked for new ways to share Liz's cake-sculpting talents with the world. 
The couple launched an online school called Sugar Geek Show, boosted by a free blog where Liz could share recipes and baking techniques. As the site grew more successful, Liz and Dan built their own social media page to support new blog posts, creating content with the potential to go viral and attract thousands of new users.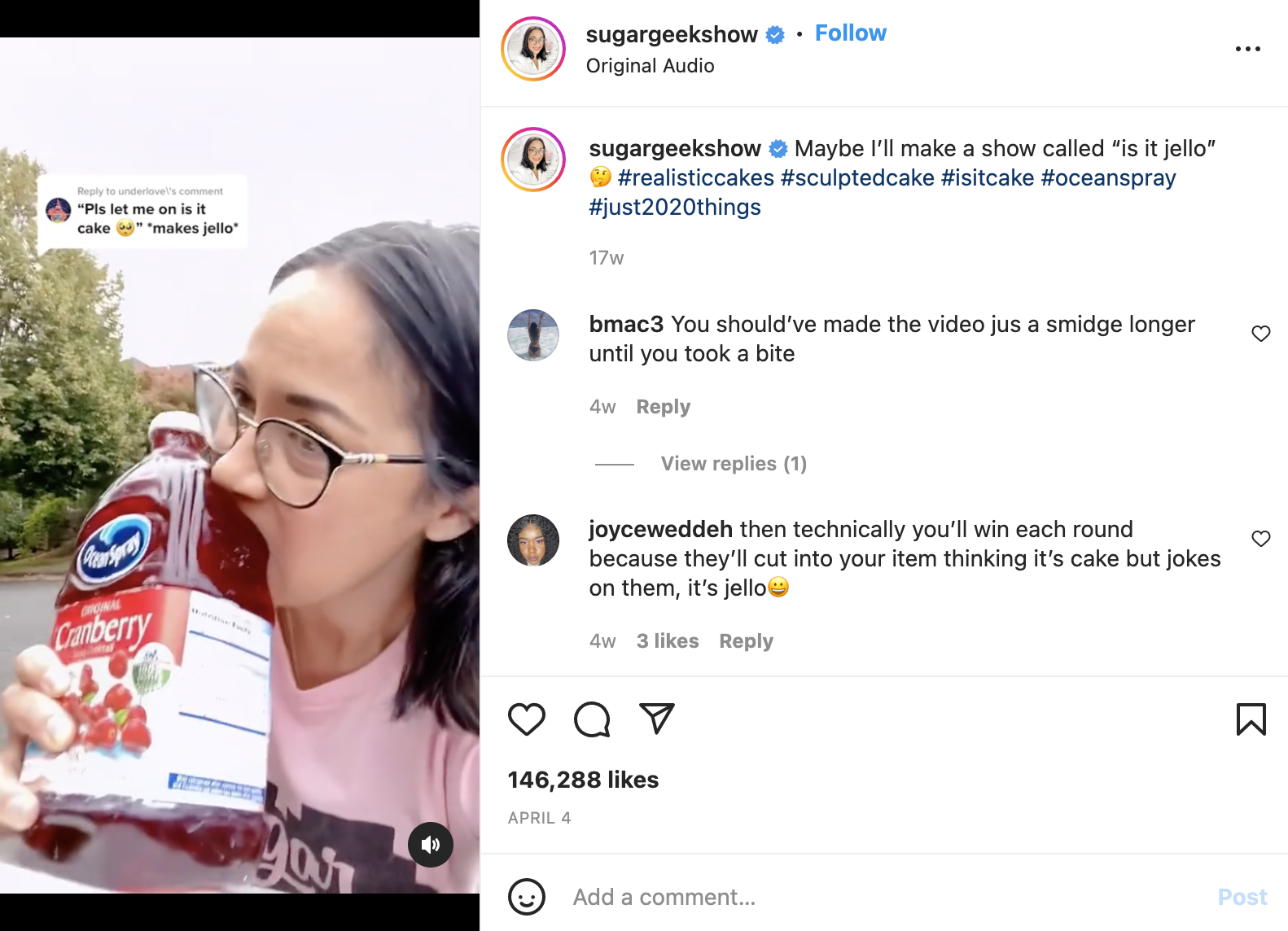 The creators of Sugar Geek Show keep a close eye on social media trends and comments, and frequently check what users are searching for on Google with the Semrush Keyword Magic tool. By doing their research and checking the existing top-ranking blogs, they can always be sure to one-up what's already out there, beating the competition. 
4. Start your own ecommerce store
Not every online store has to be run by a big name designer or a business graduate. With tools like Shopify making it easy to set up your storefront, shipping, and payment processing, what's stopping you from establishing your own business online?
To get started with an ecommerce business, all you need is a product with potential for profit. Instead of going after online giants at the top of the chain, look into niches and pay attention to the trends you're surrounded by. Checking customer reviews for existing products, for example, can be a great way to find out what buyers are missing or what they want to see in a potential product. 
Following the trend for eco-friendly, sustainable clothing, graphic design graduates Florian, Anjali, and Jonathan decided to create Repeat, a French-based online store producing and selling menstrual underwear. 
Though they had no inside marketing knowledge, very little budget, and no experience in running an ecommerce store, they managed to grow online traffic by 3900% over just 12 months. Repeat's solid brand messaging, teamed with partners in an influencer marketing strategy, secured the team close to eight figures in annual revenue, all in just one year.
Best Low-Cost Small Business Ideas
As a budding entrepreneur, you may be considering several businesses to start. In the startup world, it's important to have big dreams, but it's also key for those ambitions to be affordable. 
This list of low-cost entrepreneurship ideas and case studies show that it's possible to get your business up and running with minimal investment. 
1. Sell your own crafts 
Every business starts somewhere, and selling your own handicrafts online is a simple, low-cost way to begin. With online marketplaces like Etsy, all you need are the materials to get your store up and running. 
By starting small and using already existing tools, you can scale up the business as your sales begin to grow. And outgrowing Etsy is an option, too. Take custom curtain shop Spiffy Spools, who were looking to move their goods away from the craft-centric online marketplace. 
Spiffy Spools used an agency to help build a content strategy, targeting specific search terms and finding gaps in the market. This targeted approach propelled them to new heights at the top of Google's search ranking, ahead of huge ecommerce competitors in their niche—and even Etsy itself. 
2. Invest in a new skill
Were you praised for your poetry at school? Or do you love sinking your teeth into a new logic puzzle? Then perhaps it's time to explore where your interests could lead. 
It's never too late to develop a new skill, and byinvesting in new projects such as creative writing, coding, or photography, you can expand your horizons and, in turn, your small business ideas. 
Copywriter Emily decided to make a business from her skills in writing, and she opened a content agency. She didn't know that much about SEO, so she hired a consultant to help her learn more about SEO and create a strategy.
After just one year, spending only two hours a week on SEO strategy, Emily's Uplift Content business increased online leads by 1,118% and grew revenue by 50%. Maximum returns at minimal investment. 
3. Become a freelancer or offer skills for hire
There's nothing like being talked up by your friends and family. Even in the age of technology, word of mouth wields huge power. 
For minimal cost, you can host an online profile on skill-sharing websites such as Upwork, Fiverr, and PeoplePerHour. This profile can be shared in the local community for anyone in need of your services, and as you're recommended from friend to friend, work can come snowballing in. 
To get your ideas flowing, check these in-demand skills you can advertise online: 
Graphic design
Content writing
Proofreading
Digital marketing 
Translation
Coding and programming
Makeup artistry
Handyperson jobs
Driver
Painting and decorating
Mover
Sewing and mending services
Personal training
Music, language, or other skill classes
Online tutoring
At-Home Business Ideas Anyone Can Use
Where better to get a business started than in the space you already have? By setting up your new business idea at home, you'll save money on office space, daily commutes, or renting your own store. These at-home business ideas could serve as your next venture. 
1. Become an online tourist guide
No matter where you live, there's always something that can be shared about the area. If you're in a tourist spot, why not let others in on its delights with a local travel blog? Or if you're a photography fan, sharing snippets of local life on social media can help drive interest in you and your services. 
That's exactly what the family team behind TheSmokies.com did. Morgan Overholt started up a website focused on regional travel in East Tennessee back in 2020. Together with her husband and sister, they covered local closures, openings, and travel opportunities, posting them on their website and social media. 
This insider information helped grow the website from a small family blog to a $200,000 a year business in just 18 months, with a projected annual revenue of $500,000 by the end of 2022. 
2. Offer up space for short-term lodging
Many travelers like the opportunity to meet locals or stay in areas free from busy tourist zones. If you've got the space to rent out a room or two, this approach to travel can easily equal profit for you. 
In the vacation season, you could even consider renting out your entire home to turn a bigger profit, if you're comfortable with the idea. Families often look for homes or apartments to rent for longer periods of time, which can be an easy way for locals to make money in high season. 
3. Turn pets into profit
It might sound like a strange new business idea, but hear us out on this one. Over 2 in 3 American households own pets, and the remaining 1 in 3 probably follows one of the millions of "pet influencers" out there on social media. 
If you've got a cute four-legged friend, a pet account on social media can be turned into real-life cash through regular posting of their daily antics. Just like successful bloggers and social media influencers, quality content can lead to brand deals, paid advertising, and even merchandising deals. 
For those who either don't have a pet or don't enjoy the idea of social media marketing, there are other pet-themed at-home business ideas to work on. Dog walking, pet sitting, and grooming are just some of the ways you can provide services to the large percentage of pet owners out there. 
How to Develop a Small Business Idea
Once you've decided on your new business idea, the next step is sharing it. To see if your idea holds potential, you're going to want to test it on outsiders, including family, friends, and other people you trust. Once equipped with reliable feedback, you'll need to invest some serious research time into the market itself, including trends, competitors, and regulatory information. 
Before you make a real start on your business, answer the following questions:
Would people actually buy my product, idea, or service?
How much would people be willing to pay for it?
What are the potential problems my idea could come up against?
What is already available on the market? How much does it cost, and what can I offer that is different?
Who is the type of person buying my idea already? 
What are the current market trends?
How to Get Started with Your New Business Idea
Now that you're armed with a great small business idea, you need a plan of action. Some steps to getting set up are more obvious, like deciding on a name or getting yourself a logo, but there are many other considerations you'll need to bear in mind. 
1. An understanding of your customer
Before you sell any type of product or set your idea free on the public, you need to understand who's buying. Identify your target demographics and build a customer profile so you can plan how to meet their needs. 
2. Insights on the market and competition 
To get to know both your ideal customer and the competition, market research is an essential starting point. Semrush Market Explorer maps out the competitors you'll be up against in any market, along with seasonal trends and strategies you can address year-round to work toward success. 
3. A financial strategy and forecast
Unless it's an idea designed to work on minimal investment, a new business concept needs funding. You'll need to calculate how much it will take to get your business set up, and from there, plan how you can get your financial support. You can check to see if your business idea is a good candidate for government funding, or consider applying to private organizations for help in getting your idea off the ground. 
You'll also need to create a detailed business plan that lays out your goals in the short and long term, including financial projections that show how you expect your business to grow. 
How to Market a Small Business
The beautiful thing about marketing is that your small business just needs to be in front of the right eyes at the right time. You don't need a huge marketing budget to boost visibility online, and there are many free or low-cost tools out there to help you along the path to success. 
When building your new business marketing strategy, you want to consider which marketing channels to use to attract customers. Popular channels include: 
A company website
Email marketing
Social media 
Content marketing (e.g. blogs and video content)
Paid advertising, such as PPC (pay-per-click)
Paid advertising may not be within your startup budget, so to begin with, consider focusing on creating high-quality, relevant content that meets your ideal audience's needs. This will help channel your homepage, product pages, blog posts, or social media content toward potential customers. 
That's exactly what Anthony Rosemond, owner of online macaron bakery Pastreez, decided to do. He and his wife, Yami, had the dream of delivering authentic French macarons to customers all over the United States. But they didn't know if that was something people were really looking for. 
Anthony started by searching for "macarons near me" in the Semrush Keyword Magic tool. He saw the keyword had good search volume, meaning people were interested in it, and the keyword difficulty was low, so he'd be able to compete for it more easily. 
He continued researching "macarons near me," using the Semrush Keyword Overview tool to understand who was already ranking for the search term. He checked the competition's existing pages to see what other keywords they were ranking for, and started collecting those keywords in groups. 
From there, Anthony was able to create better pages that would outrank competitors and drive traffic to his website. This huge increase in organic traffic generated sales of over 1 million macarons, and in 2021, Pastreez opened up a bigger production facility to meet the increased demand.
How Can I Successfully Run a Small Business? 
There are many ways to get your new business idea off the ground and run it successfully, and none are necessarily right or wrong. To begin with, focus on the basics of running a business: 
Having the finances you need 
Working with the right people
Producing and supplying quality services
Being able to deliver on services or products in a timely manner
Understanding the market and how you can potentially grow or innovate in the future
Developing a thorough business plan 
Using marketing to get your product or service in front of the right person at the right time 
Your small business idea doesn't have to remain an idea for long—in fact, it's a goal that you can realistically achieve with the right mindset, plan, and tools for success. If our list of the best businesses to start has you feeling inspired, what's stopping you? Get out the pen and paper, and start planning your future today.